Spotlight on Brittany is a radio magazine programme brought to you by volunteers from the AIKB, which attracts listeners from both the French and English-speaking communities.
Every month we explore the traditions and culture that underpin daily life in modern Brittany. Our themes change monthly and the programmes are broadcast every Wednesday and Saturday by Radio Kreiz Breizh and Radio Bro Gwened.
Theh programme contains items in French and in English, and to aid understanding we offer full transcripts - both in French and English - of every major item, so you can follow the written text at the same time as listening to the sound file. Click here to be re-directed to the transcripts and texts.
Many of our listeners are outside Brittany – outside France indeed - listening on the internet. Please write to us at spotlightonbrittany@aikb.fr to tell us where you are and what you enjoy about our programmes.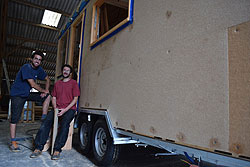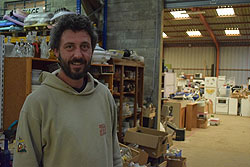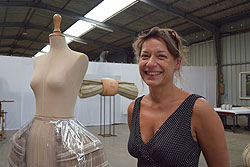 Hello and welcome to Spotlight on Brittany! What a wonderful summer we've enjoyed this year and hopefully it will continue throughout September! This month is largely about living a more sustainable life and with the economy all over the place, it's useful to pick up tips on managing your money effectively! We visit the eco village in Silfiac, find out what Ty Recup is all about and talk to someone who had a house built here, aiming to make it as eco-friendly as was possible and check out some very tiny houses!
Our current and past programmes are available via podcast. Click here to listen
Check out our Videos
Archaelogical Dig
Maison des Toiles
Horse Dentist
Crocodiles Windsufing Club, Brest
Choir at St Mayeux
Christophe Milcent - Sculptor
Bamboos and Exotic Birds

Since the beginning of January 2011, Spotlight on Brittany have been presenting new half-hour programmes which are broadcast on RKB every Wednesday from 14h00 - 14h30, and Saturday from 12h00 - 12h30, and on RBG on Wednesdays from 14h00 – 14h30 and Sunday from 08h30 – 09h00.
We are currently working hard on creating some dynamic programmes. We are still recruiting volunteers to join this exciting project, so if you have some experience in this field, do get in touch.
---